Bangkok @ 03:00 BKKLT
.
Cover Photo Credit to @Gossipgyal
.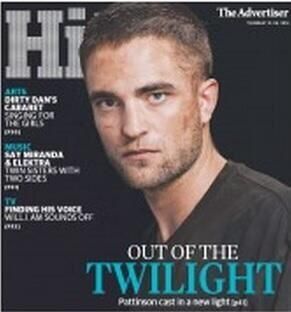 .
Via @wholelottarob
,
.
ทีมช่างแต่งหน้าและทำผมของกองถ่าย The Rover 
ต้องฉีดสเปรย์ตัวของ Rob ด้วยน้ำมันมะกอกผสมกับน้ำยาป้องกันแมลงวัน และ ครีมกันแดด
เพื่อทำให้เขาดูสกปรก น่ารังเกียจปนน่าสงสาร ดูปวกเปียกอ่อนแอ 
Rob ต้องโดนโกนขนที่แขนทั้งหมด เพื่อให้เขาดูผอมลงไปอีก
และทำให้ดูขาวขึ้นแต่ก็ดูเปราะบางและอ่อนแอมากขึ้น 
ผมของเขาถูกไถออกหยาบๆ  เพื่อให้คนดูเห็นแล้วรู้ว่าเขาเป็นเหา เป็นกลากเกลื้อนโรคผิวหนัง …
ทุกขั้นตอนของการแต่งหน้าทำผมให้ Rob กินเวลาประมาณ 2 ชั่วโมง ทุกๆ วันของการถ่ายทำ
.
.
More Under The Cut
.
,m
/
เนื่องจากสัมภาษณ์ของ Rob & The Rover  ที่ยังไม่ได้แปลมีค้างอยู่ในดราฟท์มากกว่า 30 โพสท์
ซึ่งดองไว้ตั้งแต่ Cannes , Sydney และ พรุ่งนี้ L.A. Premiere ก็กำลังจ่ออยู่
เพราะจริงตั้งใจแปลเป็นไทยให้เข้าใจตรงกัน เพราะเกลียดการรายงานข่าวไม่จริงจากสื่อไทยมาก
แต่เวลาไม่อำนวย อย่างที่รู้ว่าหน้าที่การงานของฉันคือบินไปบินมา ไม่ได้อยู่กับที่
คิดว่า อย่ากระนั้นเลย จะง่ายกว่า ถ้าโพสท์เป็นภาษาอังกฤษ แล้วค่อยมาย้อนแปลให้เมื่อมีเวลา
(ฉันเข้าใจว่าคนไทยส่วนใหญ่ก็เข้าใจภาษาอังกฤษดีในระดับหนึ่ง)
ขอโทษด้วยที่ไม่สามารถหาเวลามาแปลให้ครบหมดทุกสัมภาษณ์
.
.
Seven weeks in the baking heat of the South Australian Outback has accomplished something even an army of vengeful Volturi couldn't.
Described by one influential industry magazine as "career redefining", Robert Pattinson's against-type performance as a slow-witted drifter in desert Noir thriller The Rover has enabled him to emerge from the long shadow cast by the Twilight franchise.
That might explain the 28-year-old English actor's relaxed and charming demeanour during interviews for David Michod's hotly-anticipated follow-up to Animal Kingdom — the film that reinvented both Jacki Weaver's and Ben Mendelsohn's careers — which stands in marked contrast to his polite and unassuming but slightly-guarded approach to the media at the height of the Twilight phenomenon.
Pattinson says the glowing reviews that came out of the Cannes Film Festival last month, where The Rover screened in a prestigious midnight slot, felt like a validation "for about five seconds"
But his next film is almost more important.
"With all that Twilight stuff, I know that if I was not me, I would be judging me,'' he says.
"It's almost like setting up a brand. If you get enough good reviews so that people go in expecting a good movie, then half your job is done."
Guy Pearce, Pattinson's co-star in The Rover, made the transition from soapie heart-throb to serious actor two decades ago with The Adventures of Priscilla: Queen of the Desert, which was also selected for a midnight screening slot at Cannes.
"Basically, he is a leading man but he consistently does character parts,'' says Pattinson.
"I always kind of admired how he did that and it is basically the same career path that I would like to have."
The actor has just finished filming his own Queen of the Desert, helmed by veteran German director Werner Herzog and starring Nicole Kidman as archaeologist Gertrude Bell, in Morocco.
The role of T.E. Lawrence, he says, was his most challenging thus far.
"Even though it's only a few scenes, it was definitely the scariest thing I have done. I am playing Lawrence of Arabia. Those are huge shoes to fill. It was just crazy walking in with the outfit on." (ยิ่งทำให้อยากเห็นคอสตูมของ Lawrence of Arabia ยิ่งนัก/ppompam)
Even when Edward Cullen was dominating his life, Pattinson still made time for other projects, such as Remember Me with Australia's Emilie de Ravin, Water for Elephants, with Reese Witherspoon and Christoph Waltz, and the period drama Bel Ami, with Uma Thurman, Kristin Scott Thomas and Christina Ricci.
His collaborations with veteran Canadian director David Cronenberg, on Cosmopolis and Map to the Stars, for which co-star Julianne Moore won best actress at the Cannes Film Festival this year, gained art house respect.
But it's the character of Rey, a slow-witted misfit needy almost to the point of self-annihilation, that has drawn a firm post-Twilight line in the sand.
Michod put Pattinson through two rigorous three-hour audition sessions before casting him in the role.
"I had always thought he was some angular, super good-looking brooding guy,'' says the director.
"Then I met him and he was way more interesting than that. He wasn't just a pretty boy. He had a really interesting face. He was interestingly awkward. And clearly very bright.
"And the fact that he was willing to come back two days later (for a second audition) said to me quite definitively that he really wanted to do this movie and he really wanted to work hard."
"It also said that he was humble enough to not think it should be handed to him on a platter."
Since The Rover had a budget of $12 million, and required a challenging, seven-week shoot in the South Australian Outback in February and March, it's clear that neither money nor glamour were driving factors in Pattinson's desire to land the role.
But the remoteness of the locations might actually have been a bonus for Pattinson, who would have been keen to escape the media attention that followed his split with long-time girlfriend Kristen Stewart in the wake of her affair with Snow White and The Huntsman director Rupert Sanders.
(ขอโทษนะ ตอนที่ Rob ไปถ่ายทำ The Rover เดือน March 2013 เค้ายัง Skype คุยกันอยู่เลย กลับมาก็ยังควงกันไป Coachella … ไม่มีข้อมูลข้อเท็จจริง เอาแต่เขียนเรื่องโกหกให้คนโง่อ่าน  นี่เป็นสัมภาษณ์แรกที่ Unprofessional ในการโปรโมทนี้ ตั้งแต่ Cannes คือขอให้ได้โยงชื่อ Kristen เข้ามาเป็นพอ Timeline ก็ผิดความจริง .. STUPID)

"The environment doesn't really let you go outside,'' he said during a break from filming in the one-pub town of Marree, at the intersection of the Birdsville and Oodnadatta Tracks. The mercury on set that day hovered around the early 40s.
Time and distance have changed his perspective.
"I am constantly being prompted to say how awful it was,'' Pattinson said during a press conference last week ahead of the film's Australian premiere at the Sydney Film Festival.
"But I really liked it. I just found it incredibly serene being able to look to the horizon. I liked the hardness of the landscape as well. There's something strangely mystical about it."
The external transformation of Pattinson from handsome heart-throb to brutalised victim took some doing.
The hair and make-up department sprayed him with a combination of olive oil, fly spray and sunscreen to achieve Rey's sallow, unhealthy-looking complexion. The actor's arms were shaved to make him look thinner, even whiter, and more vulnerable. And his hair was shorn crudely to help give the impression that he was suffering from a nasty case of mange. It was a daily process that took almost two hours to complete.
Pattinson's internal shift is even more startling.
Ironically, the actor credits his experience on the Twilight films as a major factor in helping him find that character that allowed him move on.
"I never really had anyone pick on me at school. I think I just managed to skirt the edge of every different little group imaginable,'' says Pattinson.
"But for some reason, I just got Rey, who has been bullied his whole life."
"I think it's about fear as well. And I guess maybe the last few years, being a little scared of crowds, being a little bit paranoid when you are walking down the street, that fed into it a little bit."
"(That sense of) being extremely wary and also not knowing how people will react. There are trust issues there. Being a little more isolated, you get bit dislocated from normal behaviour."
"Rey is looking at people not knowing whether they are going to slap him or laugh."
The Rover opens in Australia on June 12.
.
.
.
,