Milan @ 15:22 CET

/
,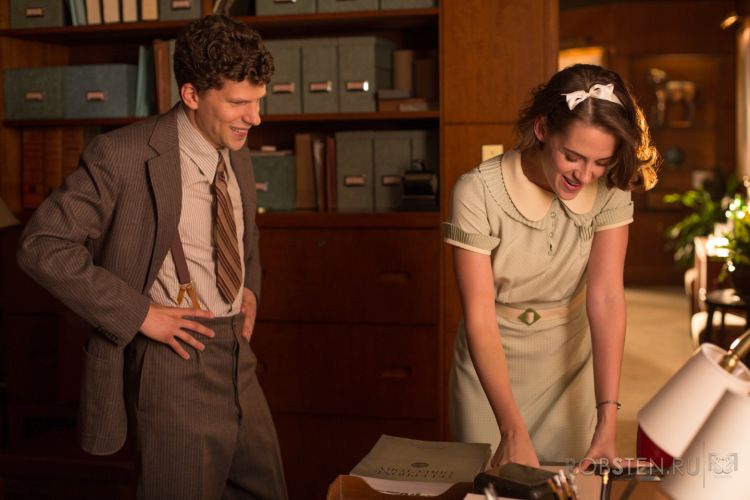 ,
Why Kristen Stewart always watches her films
.
She'll get to tempt fate again when she walks la Croisette next week for her second film premiering at this year's festival, Olivier Assayas's  Personal Shopper. The pair first collaborated on Clouds of Sils Maria two years ago, earning Stewart the aforementioned César Award.
In the meantime, Stewart is discussing Café Society. In the film, she plays against type as Vonnie an initially innocent and idealistic girl who has recently moved to Los Angeles from Nebraska but is also having a clandestine affair with a married man who just happens to be her boss.
Allen's movies are infamous for their laid-back shooting schedules, and Stewart describes making the film as a "pleasurable experience."
"We shot typically six to eight hour days. Sometimes five, if that," Stewart says. "And I got to hang out with one of my favorite people in the world."
That person would be Jesse Eisenberg, with whom she also starred in 2009′s Adventureland and 2015′s American Ultra. When she was told Eisenberg was attached to the project, she jumped at the chance to chat with Allen about the role.
The Twilight franchise star has no problem watching herself on the big screen, but that's not the case with her good friend.
"I am deeply insecure, obviously, but it completes a process. When I disappoint myself or when I haven't satisfied something that I really felt was necessary, it's debilitatingly painful. But I'm not embarrassed about what I look like or what I sound like," Stewart says.
"That's gone away. I could direct myself. I could make movies and watch it and analyze and fix it. Jesse can't watch anything. He can't stomach it. He always asks me many, many questions about the movies we've made together after the fact. 'Did this work? Did this work? Oh, so that stayed in.'"
.
.
More … ….
/