Bangkok
.
Kristen Stewart Reflects on the Allure of  "Gabrielle"  Chanel's Latest Fragrance
/

/
"[Authenticity is about]  being true to that feeling in your stomach and having the confidence and lack of fear to follow that."
ความรู้สึกที่เป็นแก่นอย่างแท้จริง คือสิ่งที่เป็นแรงบันดาลใจให้ Kristen มันคือ ..  "การซื่อสัตย์กับความรู้สึกที่อยู่ภายในตัวคุณ และ การมีความมั่นใจ ไม่กลัวที่จะทำตามความรู้สึกนั้น ทั้งรู้ตัวดีว่าคุณเองไม่ได้สมบูรณ์แบบไปเสียทุกอย่าง"
Kristen Stewart ในวันนี้ มีความเชื่อมั่น และ สุขุม แต่ เธอต้องเจ็บปวดกับ อาการเครียดและกังวลมานานหลายปี เมื่อถึงจุดที่จะกลายเป็นการเจ็บป่วยทางกาย Kristen บอกว่า มันเยียวยาได้ด้วยตัวมันเอง เมื่อเธอโตขึ้น อายุมากขึ้น และเรียนรู้ที่จะควบคุมมันเพื่อปล่อยวาง Kristen มีคำแนะนำสำหรับใครที่กำลังเผชิญกับอาการคล้ายๆ กับเธอ ก็คือ เพลาๆ กับตัวเองบ้าง อย่าตัดสินตัวเองรุนแรงนัก  "ถ้าคุณมีความกังวล นั่นหมายความว่าคุณคือคนช่างคิด และการเป็นคนแบบนั้นมันไม่ผิดแปลกอะไรเลย จงเห็นคุณค่าของมัน มันเป็นคุณลักษณะที่ดีอย่างหนึ่งที่คุณมี"
/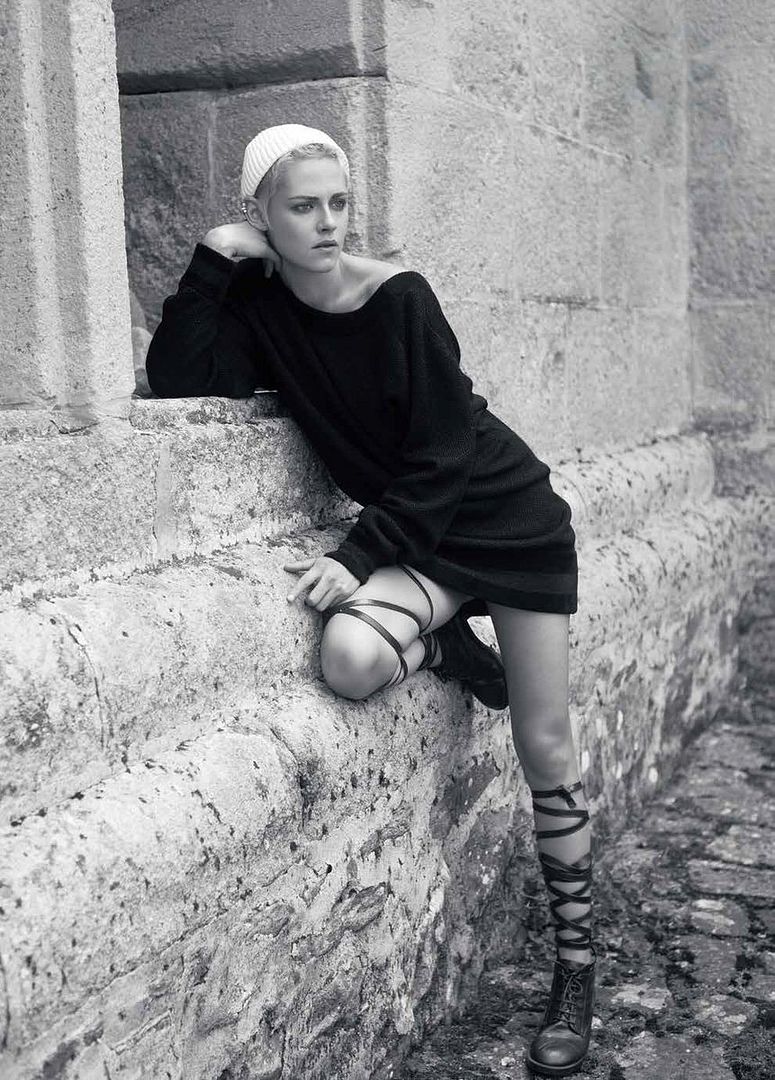 รูปของ Kristen เป็นรูปจากโฟโต้ชู้ทเดียวกันกับ Chanel ที่ Aubazine, France (June 2017)
ในนิตยสาร GloriaGLAM ของ Croatia ฉบับ Aug 2017
/
More … …
/
.Karl Lagerfeld often layers his collections with prescient commentary on the state of affairs. At the recent CHANEL Haute Couture Show in July, he installed a partial replica of the Eiffel Tower in the centre of the Grand Palais. The original structure was built in 1889 to commemorate the centennial of the French Revolution. The top of Lagerfeld's tower, which disappeared into a cloudy mist, hinted at an uncertain and restive future. The clothes were also stylishly sombre and structural with occasional feathered and sequinned embellishments that softened their severity. In his review for Business of Fashion, Tim Blanks opined that Lagerfeld was bracing for the end of the post-Macron high. "This lion is in winter," wrote Blanks. "And a front row of Kristen Stewart, Katy Perry, Cara Delevingne and Tilda Swinton, hair cropped uniformly, militantly close, were like his shock troops for the turmoil to come."
A few days after the show I meet with Kristen Stewart to talk about her new role as muse for Gabrielle Chanel, Chanel's latest fragrance. But first I want to know how she feels about being a member of Lagerfeld's "shock troop" and if she shares his opinion we're on the verge of turmoil. "Oh yeah," she says. "I think we're very much in the midst of it. If you look throughout history the most amazing artistic revolutions are in conjunction with crazy political turmoil. That's the response to it. I think things go in cycles. I really do believe it will turn around. There are too many people feeling too badly for it not to." She is less enthused by Blanks' comments about her frosted-tip pixie cut. "I'm happy that people say things like that about my fucking hair," she quips.
But hair—especially for women—is a powerful signifier, I suggest. It's not just a flip comment on style. Stewart, who is clearly a thoughtful young woman, pauses for a moment. The 27-year-old actress then opens up about how she was surprised by her own reaction to her short hair. "I like it, and oddly I feel more feminine," she explains. "I had it cut for an action movie I'm doing and I wanted to be careful that it didn't make me look like I was trying too hard to be a badass. I didn't want it to harden me, but as soon as I took it off I felt delicate. I felt very much like a woman because it's revealing. You can see everything—all of our most feminine qualities—our neck, chest and collarbones. Nothing is hidden."
Coincidentally those are also the areas on our body where we wear fragrance. The language used to market new scents can be floral and poetic, but the press material for Gabrielle reads like a feminist manifesto: "Gabrielle Chanel fragrance invites women to have faith in who they are and what they are capable of achieving to find their own voice."
We do associate emotions and memories with scent, but I ask Stewart whether a fragrance can also inspire a feminist sentiment. She tells me that she appreciates the narrative behind the fragrance, but says it's not important whether or not it has that power. What she loves about it is that it is "unabashedly feminine," adding that there's nothing worse than using masculine references or impressions to evoke feminist sentiments. "There's nothing aggressive about this perfume," she says. "Its quiet and that's its strength. It doesn't try too hard. Men and women are equal but we're not the same. Our strengths are different… It's nice that the fragrance's unsubmissive nature is also purely girly and that I'm not wearing a suit in the campaign."
Although fragrance—which she describes as an indulgence—is evocative, Stewart concedes it doesn't have the same power as fashion over how a woman feels about herself. "I feel like it's icing," she says. "It's the final touch." Stewart adds that she's not "incredibly into fashion", but credits Lagerfeld with helping her discover herself through the clothes, pictures and conversations they've had. "It's like an embedded aspect of myself is brought to the surface by somebody who has the key," she explains. "It's like being a good director. There are a lot of people in fashion who don't function this way but the people that I admire are seers. They're like compulsive weirdos; they're artists who can't stop doing what they do. For me it's not necessarily about the clothes; it's about the feeling."
And that feeling is all about empowerment. "It's crazy what an article of clothing can do for you," she laughs, adding she can show up wearing Chanel to present a movie at Cannes—"the theoretically most scary place in the world"—and feel invincible. "It's not armour, but when I put something on and it's absolutely undeniably and distinctly me, I feel great."
Feeling authentic is something Stewart aspires to—whether that's reflected in the parts she plays in films or her role with Chanel. It's instinctual rather than contrived and it's about "being true to that feeling in your stomach and having the confidence and lack of fear to follow that and knowing that you're not perfect." Today she's confident and composed, but the Twilight Saga star suffered from anxiety for years–to the point of being physically ill. Stewart says it resolved itself as she got older and learned to relinquish control. Her advice to anyone with similar struggles is to be kind and to not judge yourself harshly. "If you have anxiety that just means you're a thinker and there's nothing wrong with that. Appreciate that. It's a good quality to have."
Stewart may be calm and cool today, but she concedes that if she were to have an encounter with Coco Chanel it would be "as intimidating as hell!" She smiles when I ask her what questions she might ask Mademoiselle. "The first thing that comes to mind is: 'Dude, do you know what you did? Are you aware of it? Years and years later we're still telling your story and I hope we're doing a good job.'" I'd be like, 'Are you proud? Are we doing it right?'" In the press kit for Gabrielle, it opens with this quote from Chanel : "I have chosen the person I wanted to be and am." I think she would feel Stewart is living her life with a similar sentiment.
Source : Fashion Magazine
Full Shot Photo Via @CiderFlood
/
/