Bangkok
/
Update : Transcript
Kristen ใน Marie Claire ฝรั่งเศส ฉบับ กันยายน 2017
โปรโมท น้ำหอม Chanel "GABRIELLE"

ถ่ายทำเมื่อคราว Kristen ไปร่วมงาน CHANEL Haute Couture Show
/
/
Actress and freed woman, Kristen Stewart is the image of the new perfume Gabrielle Chanel.
 Exclusive Interview.
"I chose what I wanted to be and I am."
These words from Gabrielle Chanel could be those of Kristen, ambassador of the house since 2013. This free woman, from the look to her choices, has come a long way since the Twilight saga. It is his personality and his independence of mind brushing insubordination that allow him to embody the eponymous fragrance.
For Thomas du Pré de Saint-Maur, artistic director of beauty, watchmaking and jewelry Chanel, the choice was obvious: "Kristen personifies eternal insubordination. She is super modern, physically and in her cash She has a magnetic and dancing presence, a visceral relationship to the camera, and she has very little repeated the dance of the commercial film of Ringan Ledwidge as she naturally knows Her body and space, her touching form of shyness disappears when she plays or when the subject counts for her, and because she is engaged she is wanted. who is she."
A single interview of the muse is granted in France, short and timed, in a suite of the Hotel Raphael, in Paris. In denim and T-shirt, she is pale, surrounded – the day after a night of launch of perfume with private concert of Pharrell Williams – but of a troubling beauty. His shaved platinum hair and the intensity of his pale green look contradict his apparent fragility. Despite our time, it is totally present.
/
More … ….
/
.
Interview : Google Translation
Marie Claire: Are you sensitive to perfume in general?
KS : I have a strong sense of smell, I do not like scents easily. Gabrielle de Chanel combines audacity and discretion. It is a delightful scent, which does not speak loudly but which one hears. I must theoretically talk about it, it is obvious, but I sincerely love it. It's a good thing, I could not lie.
Do you wear it every day?
KS : No, rather according to my moods. A good fragrance, it should be like a dress that you do not plan to put on but which, once worn, brings out a facet of your personality, for example an evening. I alternate several, Chanel – Beige, Boy and Gabrielle – or other brands.
Are you attached to a childhood scent?
KS : I grew up in the Valley of San Fernando, where the orange blossom grows. When I visited the Chanel perfume laboratory, I immediately recognized this note which embodies all my childhood.
What do you have in common with Gabrielle Chanel?
KS : It would be arrogant to compare myself to her, there are so many beautiful things to say about what she did. It was true, it went against the very traditional and standardized mentality of its time. I wish I could project myself in this line.
This is the image you give. You do not hesitate to be in political commitment, as after the election of Trump. Where does your militant temper come from?
KS : That's certainly what you read about me that makes you say that. I do not think I know everything, I do not pretend to be a militant, but I sincerely say what I think. I want to be honest with my thoughts, with my inclinations. Whenever I revealed my feelings with truth, I achieved my goals. Most girls of my age, like me, express their convictions. I have confidence in this new generation, which is mine. If we take away the weight of traditions and what we are taught to be based on the sincerity of ideas, my country would be fantastic.
Do you like your age, precisely?
KS : I would love to be 23 years old forever but I have 27. But getting old does not worry me, I want to try a lot of things.
Do you feel the need to play sports?
KS : I do not practice any sport but I am very active, I never stop moving.
But you dance like an expert in the film of the campaign …
KS : The merit comes to the director who asked me to react to the weight of the ideas imposed. I did not dance to be cute or attractive but to express insubordination. So I went. This is undeniable, facing a challenge I need to succeed.
What is your relationship to food?
KS : I love it ! Even cooking brings me a lot. This is one of the most beautiful jobs I would have liked to do had I not been an actress.
Do you sleep well?
KS : I wake up very early and even several times at night. I never let go, my sleep is light. To hold, I avoid coffee, to favor green tea. And the water. Drinking a lot of it means feeling alive.
Are you taking your naked face out?
KS : Yes, most of the time. I have dark circles , it's family. I do not like to cover them and besides I would not get there. So I do not care, I assume them. The effect is quite interesting. In general, I content myself with a little mascara and eyeliner. I grew up in the 1990s, it was done at the time.
The three beauty products you never separate?
KS : A sunscreen to protect my skin , a mascara, a lip balm .
What is your addiction?
KS : I have a lot. I'm obsessive. When I love, it's intensely. I'm mostly addicted to my job. I'm very lucky to be able to do it, I can not do without it. The actors are tainted, they need to interpret.
You just switched to short platinum for a role. Do you like your new look?
KS : Before shaving my head, I was afraid it would harden my features. And yet, immediately after cutting so short, I felt more feminine. I am no longer hidden by a curtain of hair, I unveil my neck and my face. I reveal everything.
What is your definition of femininity?
KS : Your question, it is too complicated, it deserves reflection. Let's say that women have a presence strong enough to remain discrete. One can be listened to by speaking in a low voice.
คลิกที่รูปเพื่อขยายขนาด HQ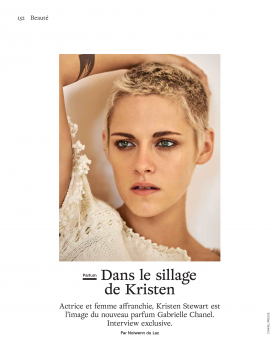 /
Source / Scans : KStewartBR
/
.