Bangkok @ 04:09 BKKLT

.
.
New Portrait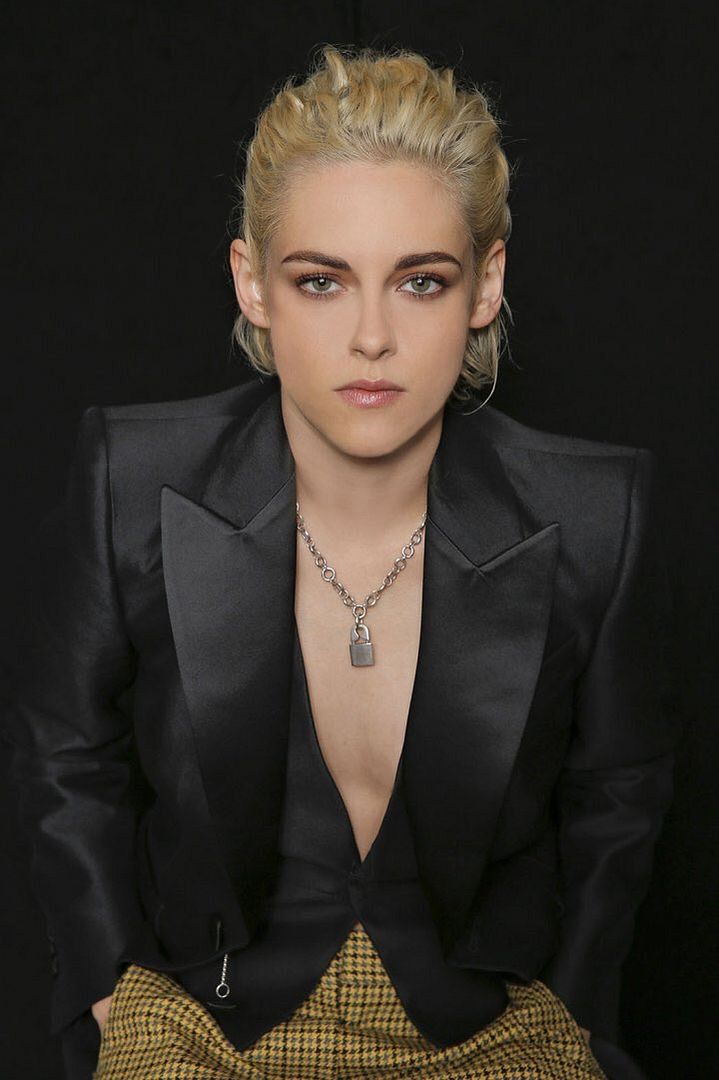 /Source : THR
/
.
รวบรวบบทสนทนา และ quote ของ Kristen Stewart
จากงาน "Personal Shopper" Press Conference
/
Full Video
/
Kristen เดินทางมาถึงงานสายนิดหน่อย เมื่อขึ้นเวที เธอบอกว่า .. "ฉันมาถึงตรงเวลานะ แต่เขาน่ะ (ชี้ไปที่ Olivier Assayas) มาก่อนเวลา" …. แสดงหนังผี แล้ว Kristen Stewart เชื่อเรื่องผีหรือเปล่า ? .. Kristen มี personal shopper ไว้ช่วยซื้อของไหม ? (จำได้ว่า เธอซื้อผ้าอนามัยทาง online) …
พูดถึงการทำงานร่วมกับ Olilvier Assayas อีกครั้ง บอกถึงการเข้าถึงบทการแสดง ฉากที่ Kristen คิดว่า sexy ที่สุดเท่าที่เธอแสดงมา และ เธอแสดงคนเดียว .. คือฉากที่เธอส่งข้อความคุยกับบุคคลลึกลับในโทรศัพท์ และ เธอก็เมคเลิฟกับตัวเอง … อยากให้ทุกคนได้ดูจริงๆ ดูรอบเดียวไม่พอ เพราะมันเหมือนคำตอบมันไม่ฟันธง ต้องดูรอบสองเพื่อหาคำตอบที่ถูกต้อง …
ใครได้ดูแล้ว มาถกกันค่ะ  เรื่องนี้ Kristen แสดงคนเดียวทั้งเรื่อง นักแสดงคู่กับเธอคือ 'iPhone' !! /ppompam
/
Kristen Stewart plays a personal shopper in Olivier Assayas's new movie, Personal Shopper, a gofer tasked with picking out — and picking up — designer clothes and jewelry for a French celebrity. It's not a position Stewart has sought to fill in her own entourage, although she does have someone who helps her with her distinctive style. "I have a stylist — she's rad and really talented," (Kristen หมายถึง Tara Swennen) the actress told the audience at a press conference following the film's New York Film Festival screening on Thursday. "We borrow stuff, say thanks, and give it back." In the film, her character, Maureen, carts around Cartier and other high-end products, but Stewart declines to specify which labels populate her own closet. "Various companies," she says simply.
Stewart and Assayas were more forthcoming when describing their second collaboration after the acclaimed 2014 drama Clouds of Sils Maria, which earned the actress a César Award (the French equivalent of an Oscar) for Best Supporting Actress and her director's eternal admiration. Here are some highlights from their conversation with the NYFF press corps.
.
More … …
/
.
Stewart believes in ghosts … kind of
When she's not serving as a personal shopper, Maureen is also a part-time medium, spending nights at the French estate her recently deceased brother owned hoping to pick up a trace of his spirit. One dark and chilly night, she does come face-to-face withsomething, although it may not be related to her beloved sibling. Both Stewart and Assayas confess to feeling that paranormal activity isn't outside the realm of possibility. "There's so much we don't see that we know to be true," Stewart said. "It's a self-protective reduction to say, 'Do you believe in ghosts or not?' I don't know what the f*** energy is, but there's something that doesn't go away. Whether I'm making that up, or I'm being left with some residual debris, I feel people f***ing intrinsically. I think [we] leave shadows." Assayas chimed in to connect belief in the paranormal with the process of mourning. "Mourning is about having some dialogue with the deceased person, and 'ghost' is just a code word for that," he said. "'Paranormal' is a normal way to describe what's happening in our thoughts."
/
That said, don't call "Personal Shopper" a ghost story
Since its premiere at the Cannes Film Festival, Personal Shopper has been described as Assayas's version of a ghost story. But it's a label he's not necessarily comfortable with. "Like all my films, this one is a collage," he said. "It's a genre movie, but I'm trying to make films that are outside the box in a certain way." At the same time, he does acknowledge that Personal Shopper grew out of his desire to fully pursue some of the paranormal elements that were part of Clouds of Sils Maria. "Clouds was a kind of a ghost story, and because I got away with it there, I tried to go one step further with this film."
/
Getting sexty
Like any young person today, Maureen moves through the world with her iPhone more or less welded to her hand. It's one of her primary modes of communication; in fact, there's an entire extended sequence in Personal Shopper in which Stewart's only dialogue is relayed via text message to an unknown sender, who may be the ghost she believes is following her. "Maureen wants to be entirely invisible, but at the same time, really seen," Stewart says of her character's addiction to her smartphone. "I don't have any social media things that I engage with, but at the same time, I have this weird preoccupation with people [online] that's distracting. We kind of all stalk each other; I stalk people, and I get stalked. Even when you're doing it totally alone, it gives you this false impression that you're connecting. In this movie, some of the sexiest stuff I've [ever] done onscreen, I do alone."
/
Assayas and Stewart can talk without speaking
Although Personal Shopper is only their second movie together, Assayas says that he and his star have their own (nonverbal) language. "We understand the complexity of what we're doing," he said. "What's extraordinary with Kristen is that she understands the most intricate complexities of filmmaking. She brings such an incredible pace and rhythm to every scene. There were a lot of scenes that were shorter in my original screenplay, but within the shot, Kristen would emphasize things in the character and story that resonated with her. Sometimes I'd turn to my continuity person and ask how long a shot was, and she'd say, 'Three minutes.' I wouldn't even realize it, because I wasn't bored for one second! The pacing of the film is a combination of Kristen's work and mine."
/
"Personal Shopper" started from nothing
Many of Assayas's most recent films have grown out of periods or specific subjects that he has researched. In the case of Personal Shopper, the script was simply born out of his sitting down and staring at a blank page. "I wanted to start from zero and see what I came up," he said. "And the character that came up was Maureen, or some primitive version of her." That development process was one of the things that captured Stewart's imagination about the role. "It's interesting that nothingness was the start of it," she told her director. "You can't always take credit for something that comes through you. This is the first time you've approached something like that, and this film is what happens."
'Personal Shopper' and the Feline Brilliance of Kristen Stewart
Stewart shines in Olivier Assayas's improbable mash-up of 'Clouds of Sils Maria' and 'The Conjuring.'
Few films have given us as many uninterrupted opportunities to ponder the singular, unique presence of Kristen Stewart as Olivier Assayas's Personal Shopper. She is, it could be argued, the only real character of significance in it, front and center of every scene, many of them played against no other actors. And even in those circumstances, she still makes us come to her. Most actors aren't willing to underplay as unapologetically as she does – it either doesn't even occur to them, or it's deemed too risky. So they put themselves out to us, some in explicit ways (by playing heroes, by getting laughs, by charming us with their good looks and charisma), some less so (by dazzling us with their craft, with the intensity of their work, with the depth of their disappearance into character).
Stewart doesn't do that; she plays quiet introverts, barely raises her voice, makes her effects subtle and tiny, and plays with such authenticity that for a good long while, more than a few less perceptive souls deemed her a Bad Actress. She's not – she's always right there in the moment. But she's not needy in the ways we so often ask our movie stars to be. Most of our actors, and this shouldn't be taken pejoratively, are like dogs; they bound around for us, and seem to thrive on our applause and affection. Kristen Stewart, on the other hand, is a cat. She's not working for your love. She knows you'll come around.
That aloofness has become, over her past few years of increasingly exciting projects, her most valuable asset as an actor. It's made her a full-on collaborator according to director Assayas, who cast her in his previous film, Clouds of Sils Maria and has said before that he considers his lead actors to be co-directors, so full is their influence on the work they're crafting together. "She's alone a lot of the time, so a lot of the pacing, a lot of the way my shots are designed, are reinterpreted by an actor… it's an essential part of what this film is about," he explained at a press conference following the film's New York Film Festival media screening Thursday. "There's a lot of scenes or moments that were much shorter or slightly different in my screenplay, and it was really up to Kristen, within the shot, to put the emphasis on this or that. And she dug up, from within the character and the story, whatever resonated with her. I think with another actress, giving a different pace to the shot, it would've been a very different film."
She plays Maureen, a young American living in Paris, mourning the recent death of her twin brother (of a heart attack, caused by a medical condition they share). She works as the personal shopper and de facto gopher of a supermodel – the second time she has played, for Assayas, an employee of the type of famous person she herself is off-screen, so let's put in a pin in that to discuss on another occasion. She is also a spiritual medium, as was her brother, so she is waiting for him to communicate with her in some way or another. So yes, it's somehow a cross between Clouds of Sils Maria and The Conjuring, and even more improbably, it works.
Assayas is clearly having fun playing in the toolbox of ghost stories, and he makes his special effects tiny but effective, subtly done, lingering on them and letting them haunt us. But he's also dipping in to the realm of the non-supernatural thriller, in a riveting series of scenes wherein Maureen receives inexplicable text messages, her reaction going from mild annoyance to genuine curiosity to outright distress. The film is patient enough to let this stranger draw her out, wise to the ways that sometimes we can type the kind of things we're not honest enough to say out loud. The combination of her playing and his execution turn the dullest of human activities into something alternately riveting and frightening.
He turns the movie over to her, and she is more than up to the task. "I was really struck by specific shots that were not supposed to be that long," Assayas recalled, "but once in a while, Kristen would do something, and I would turn to my continuity girl and ask her, 'How long was this shot?' And she would tell me, like, three minutes. And I would just freak out, because I did not realize it was that long, because I was not bored once second. I was discovering something new that Kristen was bringing."
And that's how the movie becomes something more than a ghost story or a character study. "I think that Maureen wants to be entirely invisible, and at the same time, really seen," Stewart said of her character. "And she really struggles with that, and I think that's pretty much everyone, right now. Even the most out-there people, that can't be 100% true. Like, I don't have public social media things that I engage with. But I ultimately want to be seen."
That's what makes Stewart such a fascinating enigma as a performer. After years of fronting one of the most commercially successful film franchises of our time, and taking the lumps of its critical reception, she was free to do whatever she wanted, and to be whatever kind of actor she wanted to be. So she makes small, sometimes baffling films. She takes on roles that are often purposefully unglamorous, and gives performances that are sometimes astonishing and sometimes impenetrable, and often both. She gives not two shits about how she looks off the red carpet, and even in press conference situation, she doesn't speak in the kind of pre-packaged sound bytes that most actors do; she wanders, trails off, starts over, and reveals a mind that is constantly reframing its thoughts (Verbatim quote from Thursday's presser: "We stalk each other. I stalk people. I get stalked. We are all obsessively – y'know what I mean? Um. Uh, so it's weird. It's like, um, she's struggling with a whole identity crisis, because she's two separate versions of a person, and that's not a bad thing, it's just hard to sort of contend with, um, as a, y'know…"). And more than anything, she seems patently disinterested in what the rest of us think of what she's doing. For an actor of her age, in the Year of our Lord 2016, that's downright subversive.
//

The star of Olivier Assayas' psychological thriller spoke about her own paranormal beliefs and shooting "some of the sexiest shit I've done onscreen."
In Personal Shopper ,  Kristen Stewart plays Maureen, a high-profile assistant who also half-believes she's in contact with her late twin brother. But the Paris-set ghost story is a universal one, as the supernatural interactions parallel the widespread use of social media.
"Maureen wants to be entirely invisible and at the same time wants to be really seen — she really struggles with that, and that's pretty much everyone right now," she explained after a New York Film Festival press screening on Thursday. "I don't hide anything, and I don't have any public social media engagement, but I ultimately want to be seen. It's weird — we think we have more control over that now than we've ever had because we have it in our hands, but we have none. I don't know, this weird preoccupation with other people that is so unbelievably distracting. Much cooler productive things could be happening. I know I sound ridiculous; everyone says this and I sound like an older person, but we could be doing way cooler shit. It's so time-consuming."
"You're totally alone when you're doing it, and it gives you this false impression that you're connecting or something," she continued. "The base desire of it is to get closer to other things, but then it's like, 'I change myself to then get closer to other things, I could do research to make sure I do that properly and cultivate my tastes based on knowing everything and how everyone is, and now I can be what I need to be to get close.'"
One scene in Olivier Assayas' psychological thriller has Stewart pleasuring herself while texting the other-worldly presence. "Literally, Maureen is interacting with something on a phone, and my heart started racing," she said of shooting the scene. "Some of the sexiest shit I've done onscreen I'm alone! Oh my god, that is crazy, and that's what people do all the time — such massive disconnection, yet you're just fabricating a wonderful reality."
Assayas noted of crafting the titular character, "She's like any one of us — she spends a lot of time with her phone. The film is very much about loneliness, and our loneliness is incredibly populated. There's so much happening in terms of what we interact with — ideas, people we know or don't know via social media. … It has to do with how images and modern means of communication invade us and invade our lives."
So does Stewart believe in ghosts?  "If it's real for you, then what the hell else is there? There's so much that we don't see that we know to be true," she answered. "I don't know what the f— energy it is, but there's something that doesn't go away, and whether I'm making that up or I'm actually being left with some residual debris, I feel people f—ing intrinsically. I think it leaves shadows."
/
/
/