Bangkok @ 22:27 BKKLT

.
/
Video: 'Equals' Featurette – Silas and Nia
/
Source :  A24
Reuter :  Kristen Stewart on hiding emotions

.
.
When asked if she ever had to feel she had to hide her own emotions because of her position as a celebrity ? Kristen said …
"I might have to hide things because the public sees me on a more grand level, but just going into work when you're not feeling it or maybe you've gone through a break-up or someone's passed away or something, there's nothing like being misunderstood by people. People think I'm being weird right now, I'm not, you just don't know what I'm going through and to hide that is a really painful thing."
/
Source : Reuter
.
.
Collider Interview
Kristen Stewart & Nicholas Hoult Share Memorable Moments From Filming 'Equals'
,
YT by Kristen Stewart Video .
Kristen talks about Ang Lee's "Billy Lynn's Long Halftime Walk"
"An insanely high frame rate would give you like a slow motion effect, but if you put it in real time you're just getting more information than we're used to. But usually if you do that without whatever process he's doing—which I have no idea—it makes it look like reality TV, it makes it crisp in a way that actually detaches you. [But] he messes with depth of field and makes this 3D situation where—usually the way a lens works, you control where the focal point is, [but] in this case everything's in focus… So when you watch the movie you can decide, almost as if you're there in person, what you want to look at, which has just never been seen before on film."
"The way Ang described it is he feels so disconnected from movies that he watches that he just wants to feel like he's closer, and that he's done this with [Billy Lynn]. He's somehow achieved that, so I can't wait to see it."
.
More … ….
.
.
รูปเบื้องหลังกองถ่าย EQUALS : Kristen และ ผู้กำกับ Drake Doremus
/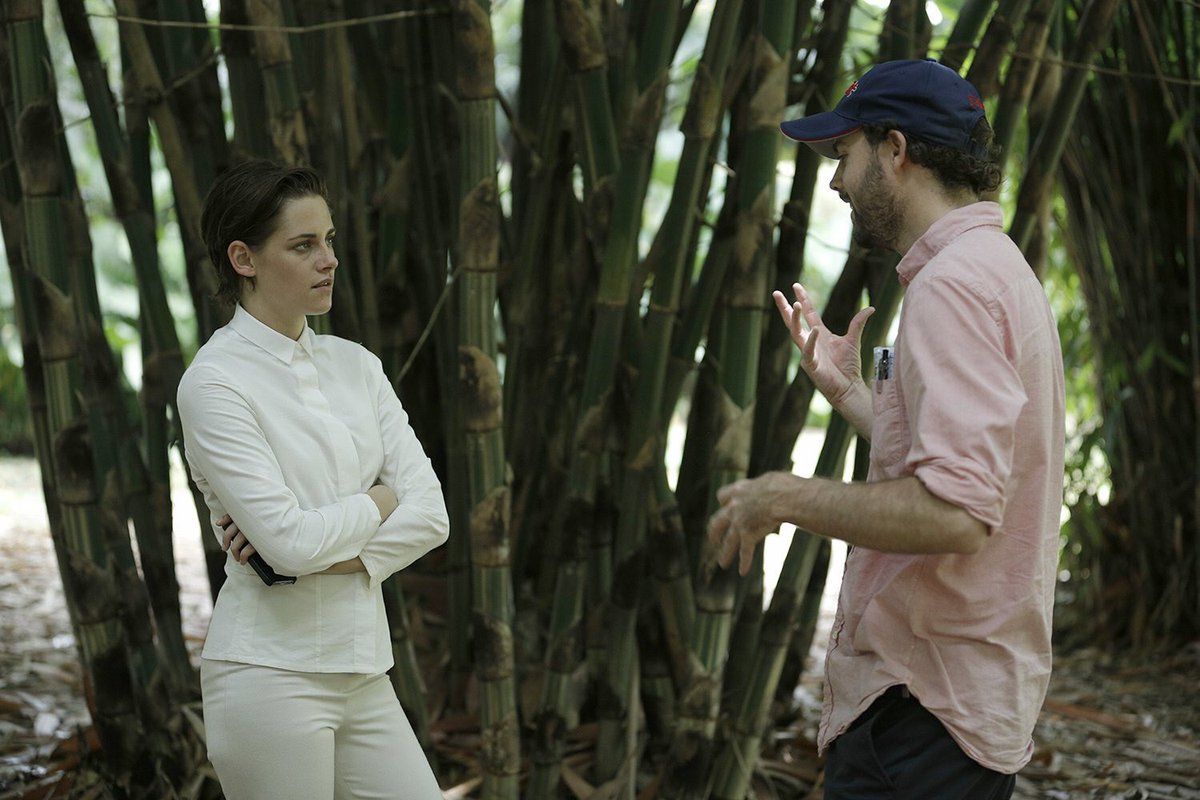 Source : KStewartBR
/
/
Variety : Kristen Stewart on Working With Nicholas Hoult in 'Equals': 'It Was About Breaking Down Barriers'
YT by RomanianKrisbian
"I was never really a sci-fi nerd, but I was always fascinated with the genre," Doremus said. "I thought it was an interesting landscape to set a love story and try to doing something warm. Most sci-fi films to me are very cold and very distant and I wanted to make something that was the opposite of that."
Stewart and Hoult complimented Doremus on his unique approach to helping spark chemistry between the onscreen lovers during rehearsals. "It wasn't about learning lines," Stewart said. "It was about breaking down barriers and getting to know each other."
Hoult still found many complexities in playing a character that "isn't meant to feel" and "understanding how that changes throughout the movie." "It's kind of like these characters have been alive and know how to do everything a human knows how to do, but they don't feel," he said. "So, it's like a baby feeling emotions for the first time, but not knowing how to process them."
/
Source : Variety
/
/
Kristen, Nicholas and Drake Doremus' interview with ET Canada

.

/
Kristen Stewart was all smiles and jokes during a rare, candid interview with ET Canada about her upcoming film, "Equals". The 26-year-old actress stars opposite Nicholas Hoult as a couple who tempt fate when they fall in love in an emotion-free society in the dystopian sci-fi film.
For Stewart, that feeling of having a crush on someone and falling in love has a special feeling and name to go with it – icy fingers. "When I have a crush on someone – it is purely physical," she candidly tells ET Canada. "I always think of it like it's icy fingers in like my stomach and that you think is only going to happen the first time and then it comes back and you're like 'S***, I got the 'icy fingers' again, that's great!'
It's a feeling we can all relate to. "We talked about this," she says to "Equals" director Drake Doremus. "Like, 'What's that feeling?!' It's almost like you're being ripped in half but it feels good but it's hot and it's cold."
As the couple falls in love on-screen, their actions have consequences for them and their emotionless society.
In order to capture the building chemistry between Stewart's character Nia and Hoult's Silas, the film was shot in mostly chronological order, culminating in one kiss that opens up a whole new world to the pair, including a sizzling sex scene that takes place in a shower. "We didn't hook up before the bathroom scenes," Stewart jokes with ET Canada.
"And then at the wrap party we all hooked up! It was crazy!"
Hoult adds jokingly.
While the on-screen story was all about suppressing emotions, Hoult's emotions were on full display when it came time to call it a wrap on filming. "One of my biggest memories is shooting the last scene on the last day and Drake was playing the music into the set we were on… and I was sitting there and at that point I'm not supposed to feel anything but I remember standing off camera and just like crying!" Hoult laughs. "And it's not even on camera. I want a goddman award for that!" he jokes.
"Ew. Get it together, brother", Stewart laughingly chides her co-star. "Be a man, dude."
.
Source : ET Canada Youtube by Korita05
/
E News : Video
Kristen  เคยให้สัมภาษณ์ว่า ถ้าจะต้องแสดงบทยอดมนุษย์ Superhero เธอก็ยินดีจะเล่น แต่ถ้าให้แสดงเรื่อง James Bond ล่ะ ?
Mark ถาม Nicholas ว่าเขารู้สึกอย่างไร ที่สื่อนำชื่อเขาไปรวมอยู่ในรายชื่อของนักแสดงที่อาจจะรับบท James Bond ภาคต่อไปแทน Daniel Craig  "พูดจริงๆ นะ ผมว่าผมอายุน้อยไปหน่อยที่จะแสดงบทนั้น"
Nicholas คิดว่า Bond น่าจะมีอายุราวๆ 3–40 ประมาณนั้น และ Kristen ก็บอกว่า "ก็ใช่ แต่แบบนั้น มันก็ดูเดิมๆ ซ้ำๆ ไปแล้วล่ะ" และ Nic คิดว่า คนที่เหมาะจะมารับบท James Bond แทน Craig สำหรับเขาก็คือ ทั้ง Nicholas และ Kristen ไม่สนใจกับเสียงวิจารณ์ที่พูดถึงว่า ถ้า James Bond เป็นคนผิวสี หรือ เป็นผู้หญิง ..
Nic บอกว่ากับ Kristen ว่า  "เราจะเดินเข้าไปเทสต์หน้ากล้อง แล้วผมก็จะได้เห็นคุณสวมทักซิโด้" แล้วเขาก็หัวเราะ "ผมก็จะแบบว่า  Kristen คุณมาทำอะไรเนี่ย ?? แล้วผมก็หันหลังกลับเดินออกไป" 
Kristen หัวเราะแล้วบอกว่า ลองคิดดูนะว่าถ้ามีฉากแนะนำตัวละคร James Bond ที่เป็นผู้หญิง … "คุณก็เริ่มเหมือนกับว่า มีผู้หญิงของ Bond เดินออกมา และ คนก็คิดว่าเธอเป็นแค่แฟนสาวของ Bond แต่ทันใดนั้นคุณก็ได้รู้ว่า จริงๆ แล้ว เธอคนนั้นคือ Bond .. ในเทรลเลอร์ ก็จะให้เห็นว่าเป็นเขาคือ Bond แบบหลอกให้คนคิดแบบนั้น แล้วหักมุม"
Mark บอกว่า Nicholas จะเป็น แฟนหนุ่มของ Bond (ที่เป็นผู้หญิง) ก็ได้นะ
Nicholas บอกว่า ถ้า Kristen เป็น Bond เขาก็จะเป็น Q ของเธอ … "I'll be like your Q
(ทุกคนคงรู้จัก Q ใน James Bond กันดีแล้วนะคะ)
/
.
Made In Hollywood
Kristen Stewart, Nicholas Hoult & Drake Doremus Uncut and Uncensored interview – Equals
/

.
.

.
,
Kristen Stewart Gets Emotional : Jeanne Wolf's Hollywood 

.
.
Rotten Tomatoes
.

.
.
,
.
CBS News : YT by Team Kristen Site
/

.
,
EQUALS : Movies on Demand

.
.
Entertainment Tonight :
Kristen Stewart gets candid about her views on love — and how her new role in 'Equals' is similar to Bella Swan in 'Twilight.'
.
/

.
/
AP
/

.

/
.
#BuzzTNT | Equals : TNT América Latina
/

.
,
Kristen Stewart on Hiding From the Media | E! Live from the Red Carpet
,

.
.
Will Nicholas Hoult Be the Next James Bond? | E! Live from the Red Carpet
/

/
/
Kristen: "How would you kiss, What would you touch" 
/

/
.
Direct TV : Equals Behind the Scenes #1 Starring Kristen Stewart
/

.
/
Direct TV : Equals Behind the Scenes #2
/

.
/
Direct TV : Equals Behind the Scenes #3
/

.
.
Feelings Aren't Allowed In Nicholas Hoult's New Movie "Equals"
/

/
/
All Videos Big Thanks to @Korita05
.
 .