Bangkok @ 23:22 BKKLT
.
.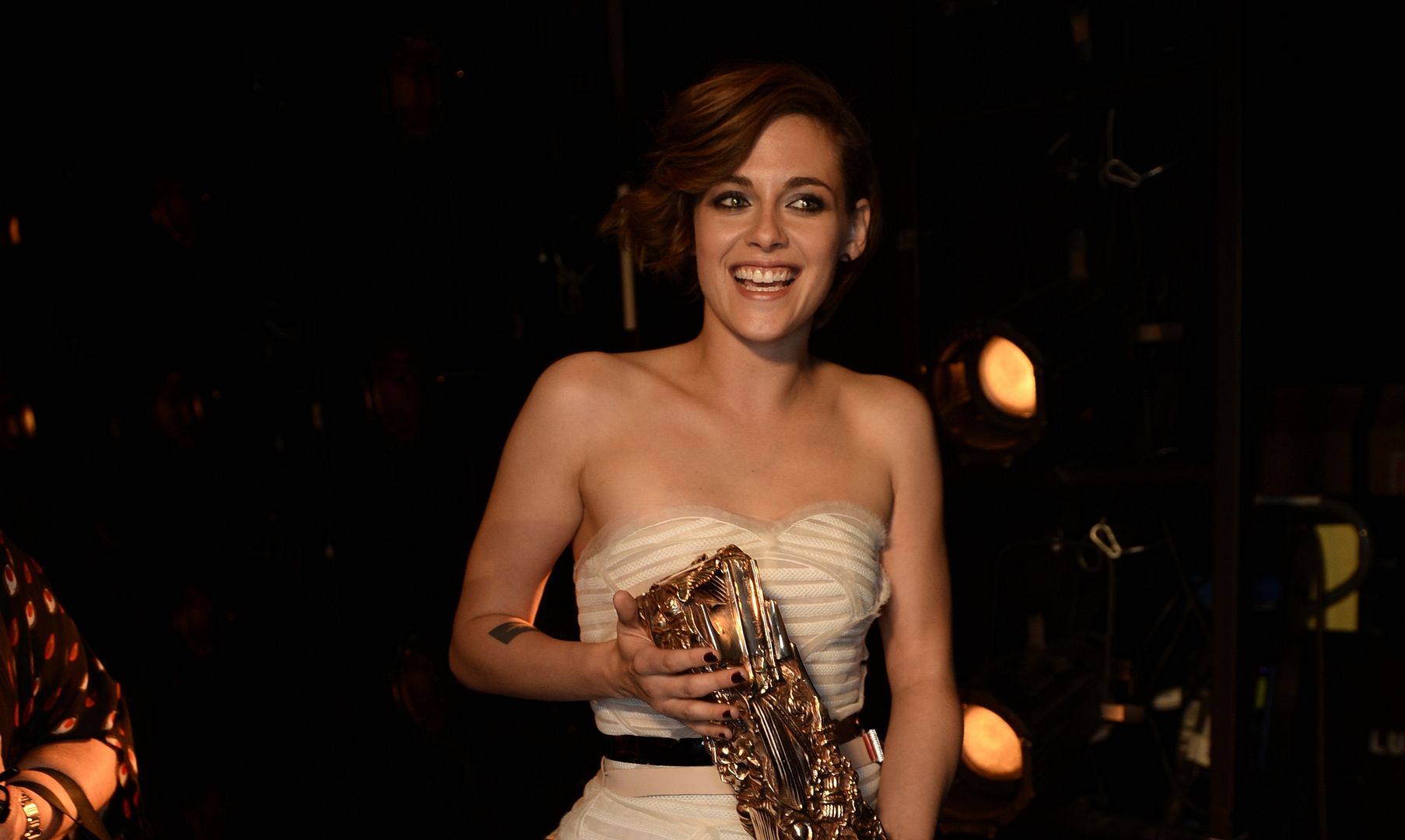 /
.
หลังจากที่ได้รับรางวัลจากโพล และ ผลการโหวตของนักวิจารณ์หนังมากมาย Kristen ให้สัมภาษณ์กับ L.A. Times ว่าเธอไม่คิดเลยว่าเหล่านักวิจารณ์หนังจะชอบการแสดงของเธอใน Clouds of Sils Maria และ เมื่อเทียบกับหนังเรื่องอื่นๆ ที่มีความเป็นไปได้ที่จะเข้าชิงรางวัลต่างๆ ด้วยแล้ว Kristen บอกว่า "มันทำให้ฉันอึ้งมากๆ ขอบอก" ที่ Clouds of Sils Maria ได้รับความสนใจจากนักวิจารณ์แบบนี้มันเป็นอะไรที่เซอร์ไพรส์มาก เพราะมันไม่ใช่หนังดังหรือหนังตลาด
"ตอนนี้ผู้คนก็รู้แล้วว่าฉันน่ะเป็นคนแปลก และเปิดกว้างกับการทำงานในแนวที่ไม่ใช่เพื่อการตลาดเสียทีเดียว มันก็เป็นความรู้สึกที่แปลก เพราะว่าฉันน่ะชอบอะไรๆ ที่มันค่อนข้างจะเอียงไปในแนวของงานที่ดูว่าผู้คนเสพงานนั้นอย่างไรมากกว่า"
และพูดถึงบทบาทของ Maureen ในเรื่อง Personal Shopper ว่า  "ฉันเล่นเป็นคนที่เครียดๆ เพี้ยน (nut bag) ซึ่งนั่นเป็นแนวการทำงานที่ฉันชอบ เธอเป็นคนที่มีอัตตา เหงา และโดดเดี่ยวมากๆ เป็นแนวที่สุนทรีย์ราวบทกวีจริงๆ เป็นแบบฝรั่งเศสสุดๆ มันดีจริงๆ "  หลังจากทำงานไม่หยุดมา 12 เดือน Kristen บอกว่า "ฉันโชคดี ตอนนี้ฉันดูเหนื่อยล้าบ้างนิดหน่อยแต่มันก็ OK."
.
.
More … ….
 .
.When historians look back at this decade of movie-making their first instinct may be to crown Alejandro Iñárritu's "Birdman" as the definitive statement on the culture of celebrity of this era. If they are smart, they'll present another film that is arguably more spot on in how it portrays the movie industry's inherent narcissism: Olivier Assayas' "Clouds of Sils Maria." Critics have been simmering on the drama since it debuted at the 2014 Cannes Film Festival and surprised many by remembering to shower one of its stars, Kristen Stewart, with honors over the past month.
On one Sunday this month, Stewart won the supporting actress prize from both the New York Film Critics Circle and the Boston Society of Film Critics. A few days later, she was the official runner-up for the same honor from the Los Angeles Film Critics Assn. These were unforeseen kudos even when you consider that Stewart became the first American woman to win a César Award, France's equivalent of the Academy Award, for her performance in "Clouds" in February. Because it was released in the United States this calendar year, Assayas' drama was eligible for most critic honors this awards season, but Stewart says she wasn't expecting any of the adoration she's receiving.
"For that movie to get any sort of attention it's a huge surprise considering it's not the most commercial movie and especially considering everyone else who was considered,"
Stewart says.
"It blew my head off, to be honest."
"Clouds" finds Stewart playing Valentine, the young assistant to a famous Hollywood actress, Maria (Juliette Binoche), who is trying to come to terms with her place in the global celebrity microcosm after agreeing to star in the revival of a play that launched her career two decades earlier. Valentine and Maria's relationship straddles the line between professional and personal, allowing Stewart to showcase some of the most nuanced work of her career.
"Initially, I looked at it as something that moved me. It was very emotional, but it was kind of interesting banter between two women,"
Stewart says.
"It was an interesting role for me to play considering my position in the business and my awareness of how potentially superficial and strange it can be and how funny it would be to hear certain words come out of my mouth."
Binoche and Stewart formed a strong bond while shooting the picture that still resonates. One of the more memorable moments involved a scene where Valentine and Marie jumped into a freezing river. Assayas wanted the actors to figure out the scene together, and Stewart jokes that her reaction was the "epitome of a young American."
"It's literally glacial runoff this … lake, and I looked up and before I knew it [Binoche] was completely … naked. And I'm like, 'I'm not doing that.' And then we just jumped in,"

Stewart recalls

. "We had such a big adrenaline rush, and we'd both been through so much already. All the air was out of our lungs. We couldn't breathe. And that sort of exemplified that experience."
Frankly, Stewart earning recognition for her work in "Clouds" now isn't that surprising. She's coming off a year and a half during which she also impressed in the Sundance drama "Camp X-Ray" and Oscar-winning tearjerker "Still Alice." Of course, those sorts of accolades are the furthest things from her mind. Stewart always attempted to find projects that pushed her during her breaks during the four years she was filming and promoting the "Twilight" franchise but says she "feels lucky" so many interesting films presented themselves afterward.
"Now people know I'm a weirdo and open to doing stuff down the line that isn't completely commercial,"
Stewart notes.
"It's a strange feeling, because I've always liked things that were a bit more diagonal in terms of how people consume them."
Stewart shot five films in 2015, including Kelly Reichardt's "Certain Women," which will debut at the Sundance Film Festival next month, Woody Allen's untitled 2016 picture, Ang Lee's "Billy Lynn's Long Halftime Walk" and "Personal Shopper," a drastically different reunion with Assayas that she describes as "entirely existential and lonely, really poetic and really, really cool." Or, in even simpler terms, "super French." "The person I'm playing now is a nut bag, so it's kind of working in my favor," Stewart says of her nonstop 12 months. "I'm lucky it's OK for me to look a little tired right now."