Seoul @ 02:40 KoreaLT

/
.
/

//
Kristen ร่วมเสวนา 'Still Alice' ในรายการ HuffPostLive ที่ New York : Jan 13,2015
ถามว่า Kristen จะหยุดพักงานการแสดงไปอีกนานเท่าไหร่ อย่างไร
เธอบอกว่า เธอกำลังเทคคลาสเรียนศิลปะในโรงจอดรถของบ้านเธอเอง
ทาสีโรงรถของเธอ .. "it's so cooooollll"
อย่างที่เธอให้สัมภาษณ์กับ USA Today เมื่อเดือนตุลาคมว่า
เธอกำลังมองหาออฟฟิศทำงานในเมือง และ อยากทำอะไรด้วยมือของเธอเอง
และถ้าใครจำได้ฉันเคยโพสท์รูปงานของเธอที่ทำร่วมกับ Juju ใน Facebook
.
KSF Julianne Moore Kristen Stewart LIVE -[2] by lalapie03 Via kstewartfans
.
/
Pics Credit kstewartfans & @HuffPostLive
/
.
More .. …
./
.
Kristen talks about Tabloids
It's a rare day when a tabloid goes to press without publishing something about Kristen Stewart, but in a conversation with HuffPost Live on Tuesday, the "Still Alice" actress appeared to take all the rumors in stride.
"There is like, you know, a whole other form of entertainment that is just voraciously consumed," she said, referring to tabloid stories.
Touching upon recent reports that she had decided to give up acting for good, the "Twilight" star laughed as she explained how that rumor came to be.
"It's funny — you know, you do an interview and someone says 'Oh you've been working a lot? What are you planning on doing now?'" She continued: "And you say 'Uh, I'm just going to take a second and like do something other than that' — [and suddenly the tabloid reads] "Kristen Stewart Quits Hollywood!""
Luckily, she thinks "people know" the difference, and is willing to take the media with "a whole big boulder of salt."
(หรือที่เราคุ้นหูว่า Take with a grain of salt … ฟังแล้วโปรดใช้สมองคิดให้จงหนักก่อนจะเชื่อ /ppompam)
Source : HuffingtonPost
/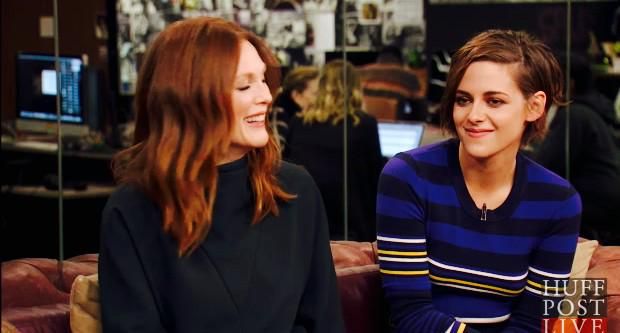 .
ScreenCaps by  @KSTEWART_THAI  & @iamACrisp96
.